JCK Las Vegas
North America's Largest Annual Trade Event
June 1-4, 2018
Mandalay Bay Resort & Casino, Las Vegas
Booth B65078
JCK Las Vegas is the jewelry industry's leading annual trade event bringing together over 30,000 of the world's most influential industry professionals in a secure environment for order writing, inspiring education, networking and fun! JCK's all-encompassing expansive collections of jewelry, gems, timepieces and services make it a premier destination to discover what's new and next in the fine jewelry market. The experience at JCK goes beyond business; it's personal, uniting a community that is shaping the future of the jewelry industry.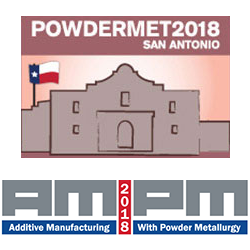 POWDERMET
North America's Largest Powder Metallurgy & Particulate Materials Event
June 17-20, 2018
Grand Hyatt San Antonio, Texas
Booth ###
POWDERMET2018 is the largest annual North American exhibit to showcase leading suppliers of powder metallurgy, particulate materials, and metal additive manufacturing process equipment, powders, and products. This year, the exhibit hall includes even more non-compete time, including the PM Evening Alehouse!

Rapid Show
Accelerating 3D Manufacturing
April 24-26, 2018
Fort Worth Convention Center, Fort Worth, TX
Booth #2130
RAPID + TCT is North America's preeminent event for discovery, innovation, and networking in 3D manufacturing.