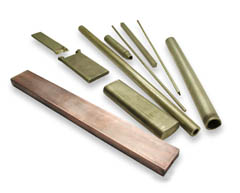 The function principle of our continuous casting machines is based on similar ideas as our vacuum pressure casting machines. Instead of filling the liquid material into a flask you can produce (draw) sheet, wire or tube by using a graphite die.
Therefore we use a die cooler that cools down the material below solidification point. The so called drawing unit consists of a microprocessor controlled motor that pulls out liquid material in programmable steps.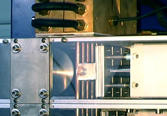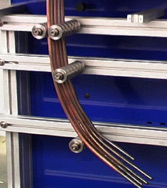 The drawing time, the stop time and the optional reverse time are variable.
All this happens without any air bubbles or shrinking porosity. The optional tools like hydraulic cutters, bending units or coiling systems proof the versatility of the machine, and material can be produced on demand.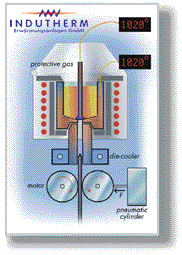 All continuous casting machines operate on a lower frequency than usual on the market. This low frequency leads to a very high penetration of the electromagnetic field in the liquid melt. This physical effect called mixing or stirring effect prevents a sedimentation of materials with a higher specific weight e.g. gold in the liquid bath. The material is in most of the cases homogeneous up to 10th of a thousandth.
CONTINUOUS CASTING MACHINES CAN BE USED FOR
of wires and tubes up to 30 mm and casting of sheets up to 50×8 mm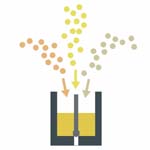 The low frequency of our continuous casting machines guarantees an intensive mixing of the molten material. This is the best basis for homogeneous alloys. In difference to many other systems, at the INDUTHERM continuous casting machines the crucible is closed by a stopper rod. That means, that no metal can flow out before all material in the crucible is completely molten and mixed. Your alloys will always be absolutely homogeneous. So it's possible to work with pre-alloys or with pure metals without any risk.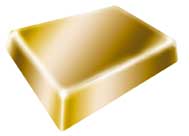 Diffusion welding (sintering)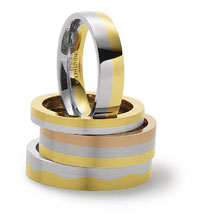 With the new sintering kit, up to 6 rings can be sintered at the same time. The processing time including setting and removal takes 6 to 7 minutes. Pressure and temperature (a little bit below the melting point) can be regulated precisely to the requested data.
In many test cycles this way of sintering has been optimized. The items to be tested, rings in different metal combinations, were checked thoroughly at wedding ring manufacturer E. Schwarz GmbH in Pforzheim. The sintered rings were widened up to 18 numbers, partially milled and then cut to control the quality of the welding under the microscope. According to E. Schwarz, the results were absolutely convincing in the case of low and high carat combinations as well as in the case of Pt/ 18 ct Au.
Drawing unit for 3 or 5 wires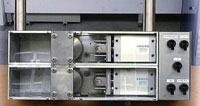 For the simultaneous casting of 3 wires (CC 1000) or 5 wires (CC3000).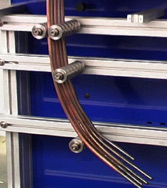 Using the bending unit attached to the bottom drawer, the material can be bent without mechanical force on the die.

The hydraulic cutter with a cutting force of 30 tons allows to cut easily sheet up to 10x100mm and wire.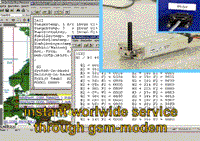 All INDUTHERM machines with an induction generator may be equipped with a GPS modem for remote service. INDUTHERM machines are in operation world wide, very often far away from INDUTHERM or from the next INDUTHERM sales representative. The GPS modem allows us to set up a remote connection with the machine and check all important parameters. That way the set up can be adapted in order to avoid operating trouble. In case of disturbances or complicated casting procedures we can help quickly and easily.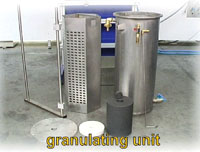 Every continuous casting machine can be modified into a granulating machine within a short time.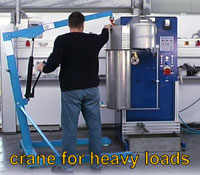 The crane can be very useful especially when granulating.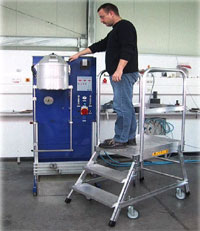 The movable platform is a reliable help for the operator.
Writing Professional is an established pioneer of online academic producing market, that has attained worldwide fame amongst college pupils
It provides services in writing for college students, particularly for you yourself personally to attain success on your internet academic job. Its services include proofreading, editing, composing tutorials, designing websites, weblogs, and personal statement help novels. It also aids in writing blog posts like web content, articles, website content, and even blogs.