Indutherm VC200 and VC300 Resistor Heated Casting Machines
The resistor-heated vacuum casting machine VC200 and the vacuum pressure casting machine VC300 are very low priced casting machines for smaller productions. Nevertheless these machines offer a convincing casting quality. Both machines reach a maximum temperature of 1200 degrees C.
Indutherm VC400 and VC500 Induction Heated Casting Machines
The VC400 is the ideal machine for smaller companies producing moderate quantities but needing considerably more capacity than that offered by MC machines. Often, experienced casters are not particularly interested in automated functions or program control and they can achieve the same quality with the VC400 machine as with more advanced ones. Its induction generator guarantees fast heat-up and thorough mixing of the molten metal by inductive bath movement. From now on VC400 and VC500 do not only provide the Turbo Pressure function, but in addition they also switch to over pressure automatically after casting.
The VC500 is for larger production quantities with continuous casting operation, greater performance (shorter casting times) with even larger crucibles and flask capacities is important. The high maximum temperature of 1600 degrees C extends the possible range of alloys. Temperature measurements in both the crucible and the flask mean best possible repeat accuracy in the process. If alloys arechanged frequently, 20 different temperature programs simplify working procedures.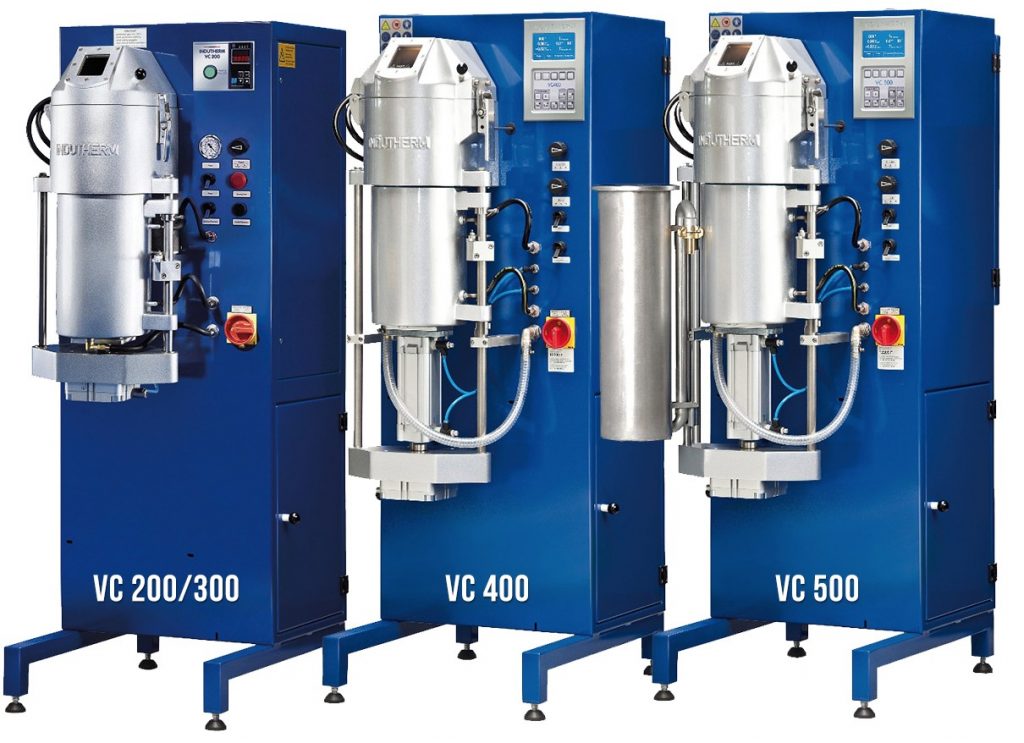 VC 200 / VC 300

VC 400

VC 500

Power max. / electrical connection (max. temp.)
2kW 230V (1200ºC)
3.5 kW 230V or 4.5kW 3x400v (1400ºC)
10kW 3x400V / 3x208V (1600ºC)
Crucible Volume
245 ccm = 3.6kg Au 18 ct*
170 ccm = 2.5kg Au 18 ct*
245 ccm = 3.6 kg Au 18 ct*
optional: 386 ccm = 5.8 kg Au 18 ct*
Flasks
130 mm / 260 mm h
130 mm / 260 mm h
130 mm / 260 mm h
optional: 160 mm / 400 mm h
Dual Temperature Control
–
Optional
Optional
Flask Temperature Measurement
–
–
Standard
Flask and Chamber Lift
Optional
Optional
Standard
Temperature Programs
–
20 temperature programs
20 temperature programs
Turbo Pressure Function
–
Standard
Standard
RS 232, Diagnostic System
Standard
Standard
Standard
GSM Modem for Remote Service
–
Optional
Optional
Sintering Kit (for Diffusion Bonding)
Optional
Optional
Optional
Granulation Tank
–
Optional
Optional