Solidscape S300 Series — S370
S300 Series High Precision 3D Printers for Jewelry.
The only wax model 3D printers built exclusively for jewelers, the desktop Solidscape S350 and S370 create ultra-accurate, directly castable wax models with complex geometries, clean burnout and superior surface finish.
The Solidscape 3Z Max² has been replaced by the Solidscape S300 Series – S370. The Solidscape S300 Series – S370 offers a sleeker design and has a more modernized appeal.
Solidscape, Inc. is the leading manufacturer of high precision 3D printers, materials and software for direct manufacturing, able to print solid parts designed in CAD.
Solidscape systems incorporate innovative printing technologies and material properties that advance the state-of-the-art in computer-controlled fabrication of master patterns, by providing the highest standards in surface finish, accuracy and material castability. Solidscape wax patterns are ideal for investment casting and mold making applications such as fine jewelry, dental restorations, turbine blades, biomedical products, orthopedics, consumer goods, electronics, toys and many other high precision products. These systems are true office peripherals–easy to use and residing on a desk.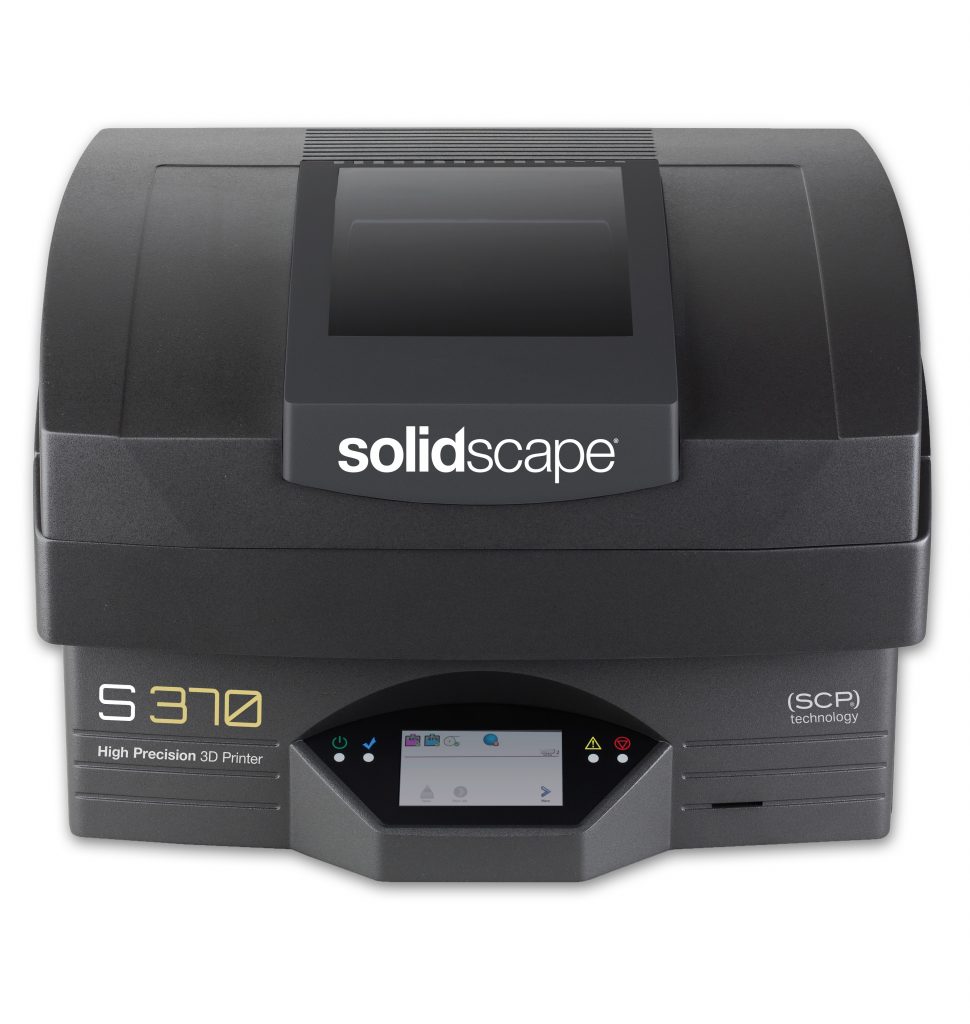 High precision 3D Printer for Manufacturing
The Solidscape S370 is the high precision 3D Printer for the manufacturing of wax patterns. S370 supports higher throughput and delivers signification production gains for precision design in jewelry, medical and industrial manufacturing applications.
Easy One-Touch-Operation
The fully automated S370 printer features a user-friendly touch screen and innovative software that allows operators of any skill level to produce their own high-precision wax patterns ready for casting.
Efficient Workflow
New S370 high performance capabilities greatly reduce the manufacturing workflow process time whiledelivering high casting yields and low cost-per-parts. There is a great need among 3D printer manufacturers to create a more efficient workflow for businesses across different industries and the S370 achieves this.
Superior Casting Results
Exclusive Solidscape S Series model and S Series materials produce extremely smooth wax parts that accurately reproduce the most intricate of geometries while eliminating the need for manual post-production refining processes. Superior casting properties include fast meltout, no ash or residue, and no thermal expansion.
PRINTING PROPERTIES
| | |
| --- | --- |
| Layer Thickness: | User Selectable – 0.001 inch (0.0254 mm) to 0.002 inch (0.0508 mm) at 0.00025 (0.00635 mm) increments |
| Resolution: | 5000 X 5000 dots/inch (197 X 197 dots/mm) in X, Y |
| Accuracy: | ±0.005 inch (127 µm) for 1st inch (25.4 mm), ±0.001 inch/inch (25.4 µm) each additional inch X,Y and Z |
| Surface Finish: | Layer thickness-dependent, up to 32 micro-inches (RMS) |
| Start Process: | Fully automated, one-touch operation |
| Status Monitoring: | Fully automated fault detection, restarts build from point of interruption |
| New! Calibration Capacity: | Quicker calibration and ability to select calibration frequency means less wasted material |
TECHNICAL SPECIFICATIONS
| | |
| --- | --- |
| Dimensions: | 21.4 x 18 x 16 inches (558 x 495 x 419 mm) |
| Build Envelope: | 6 x 6 x 4 inches (152.4 x 152.4 x 50.8 mm) |
| Weight: | 80 lbs (36 kg) |
| Power: | 100 – 240 V Required |
| Operating Temperature: | 60° to 75°F (16° to 24°C) |
| Humidity: | 40-60% |
| Agency Compliance: | CE Certified, FCC Class B approved, TUV certified EN 60950 Compliant |
MATERIAL PROPERTIES
| | |
| --- | --- |
| Midas Castable Material: | Proprietary model material formulated for clean burnout, producing 100% direct casting results |
| Melt-J Dissolvable Support: | Proprietary support material engineered to dissolve completely, hands-free, resulting in superior surface finish |
| Material Capacity: | Larger tanks require less filling and allow for longer print runs |
| Material Monitoring: | Display indicates build and support material levels accurately in 10% increments |
SOFTWARE AND SYSTEM REQUIREMENTS
| | |
| --- | --- |
| One-Click Software: | Automatically formats CAD files for 3D printing |
| CAD File Input: | .stl and .slc files |
| System: | Windows, PC-to-printer connectivity via high-speed USB 2.0 or Ethernet |