Yasui Prime D-VWIS
YOUR BEST D-VWIS SYSTEM
PRIME's precise injection eliminates air bubbles, stable wax weight, and other problems by improved performance including control system and other structures to get the best wax.
It will be much faster and easier to find the best recipe for the design.
Achieve BEST WAX by the same way as your D-VWIS system! It provides drastic change of wax manufacturing by detail parameter setting and TODAY memory system, which was not available with previous D-VWIS.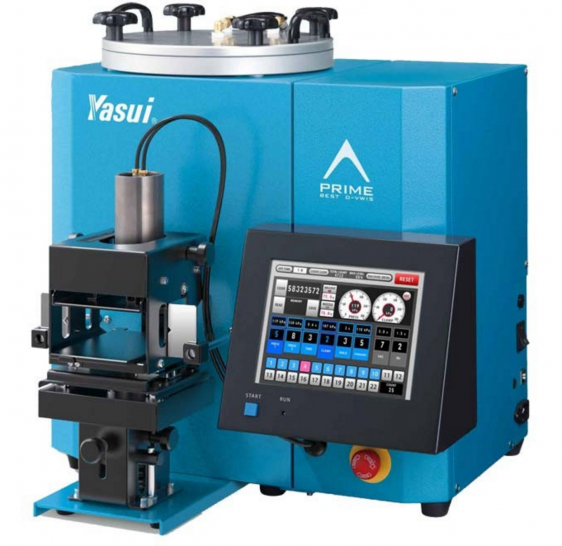 BENEFITS & FEATURES…
Large clamp compare to DVWIS
Memory for all the rubbers
Parameters with company data base
Easy adjustble Z-axis manually
less shrinkage
Equal weight of wax
High production
User friendly
IC tag
New worker can start working from day one with already stored parameters
Strong machine for heavy production
Reliable and stable for production
No retouch – no repair – no air bubble
Auto preheating
Parameters can be adjusted easily
X-Y clamp movement for accurate clamp pressure point
Simple to check the parameters
Easy touch to operate
| | |
| --- | --- |
| Power Supply | 230V, 50/60Hz, Single Phase |
| Power Consumption | 0.48KVA (max) |
| Compressed Air Supply | 0.40MPa – 0.70MPa |
| Temperature Display Range | 40°C – 100°C (104°F – 212°F) |
| Temperature Set Range | 40°C – 100°C (104°F – 212°F) |
| VAC Time Set Range | 0 sec – 99.9 sec |
| INJ Time Set Range | 0 sec – 600 sec |
| Heater ON Timer | Available By Calendar |
| Wax Capacity | Approximately 3.5kg |
| Accuracy Of Nozzle Temperature | +/- 0.2°C |
| Maximum Rubber Mold Size: | |
| Standard Size Clamp Unit (WxDxH) | 80mm x 100mm x 50mm |
| Optional Large Clamp Unit (WxDxH) | 125mm x 150mm x 80mm |
| Set Range: | |
| PRESS1 (Primary Pressurizations) | 10kPa – 250kPa |
| Time To Start PRESS2 | 0 sec – 60 sec |
| Mold CLAMP | 30kPa – 250kPa |
| Mold Forward | 35kPa – 250kPa |
| Mold HOLD Time | 0 sec – 300 sec |
| Dimensions (WxDxH) | 582mm x 473mm x 517mm |
| Net Weight | Approximately 33.5kg |
| Packing Dimensions (WxDxH) | 650mm x 580mm x 620 mm |
| Gross Weight | Approximately 42.0kg |