Yasui Rotating Burnout Furnace #37
THE NEW SOLUTION FOR LOST WAX FLASK BURNOUT PROCESS
The Yasui Rotating Burnout Furnace #37 features uniform heat transfer, due to the displacement of air created by the Rotating Shelves, within the flask chamber. Accurate Temperatures insure a safe burn-out during stone-in-place casting.
The Variable Power Heating System, automatically and precisely maintains set temperatures throughout the cycles, (9 Programs, 8 Ramps each). Internal De-waxing System collects wax outside the flask chamber.
The Afterburner device neutralizes all fumes, odors and pollution produced during overnight burn-out. The narrow door design creates minimal heat loss.
Rotating Burnout Furnace #37 (77-014) is for gold only. Rotating Burnout Furnace #13 (77-0145) is for gold and platinum.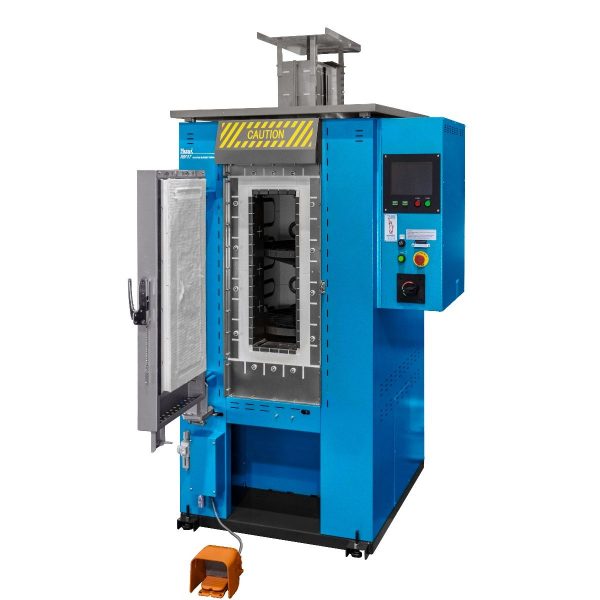 CLEAN BURNOUT
Technology assisting the combustion by compressing the air entering the chamber is a conventional method commonly known for 20 years. This method is not good for both the working environment and furnace because it spread outs the burning gas and moisture vapor in the room. Yasui RBF37 achieves extensive improvements of combustion efficiency without compressing the air.
UNIFORM HEAT TRANSFER
Our RBF – Rotating Burnout Furnace distributes the heat uniformly due to the minimal difference of temperature between the heater surface and the chamber as well as due to the displacement of air caused by the rotation. In this way, all the flasks are heated at the same temperature regardless of distance from the heating coil.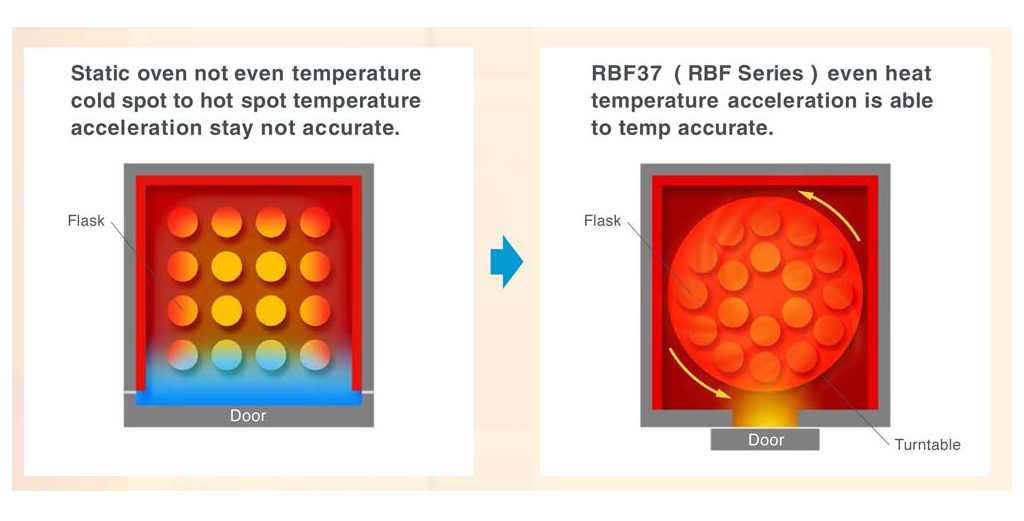 MINIMAL HEAT LOSS WHILE OPENING THE DOOR
As the door is not wide like normal burnout furnaces, the heat lost is much less and that temperature does not fall much.
EASY-TO-ACCESS CONTROL PANEL
Various information is obtained from the control panel, such as present step no., present burning out temperature inside the furnace, and present rotating position of the turntables etc.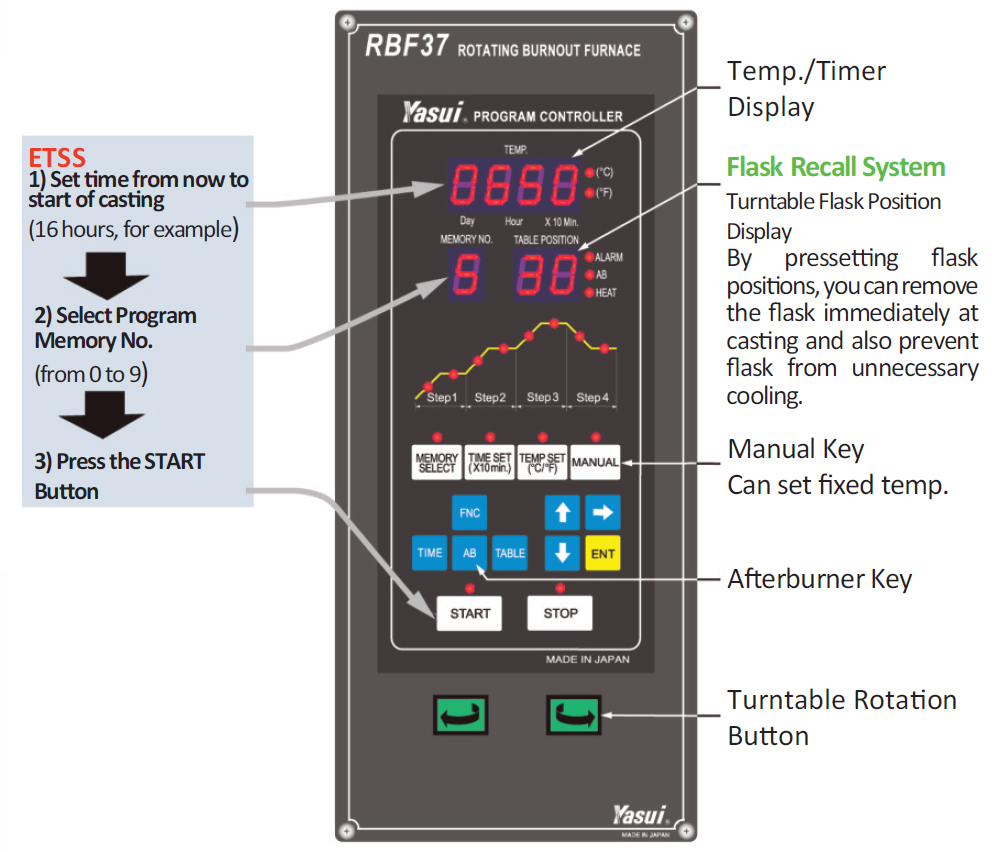 PROGRAM MEMORY
10 kinds of different burnout cycles can be memorized on the controller.
OVERHEAT PROTECTION DEVICE – SAFETY FOR STONES IN FLASK
The value of precious stones inside the furnace is beyond comparison with the value of the furnace. RBF37's overheat protection device on the front panel can can prevent the precious stones safely from the overheating. Should the temperature exceed the setting value, the power is immediately shut off.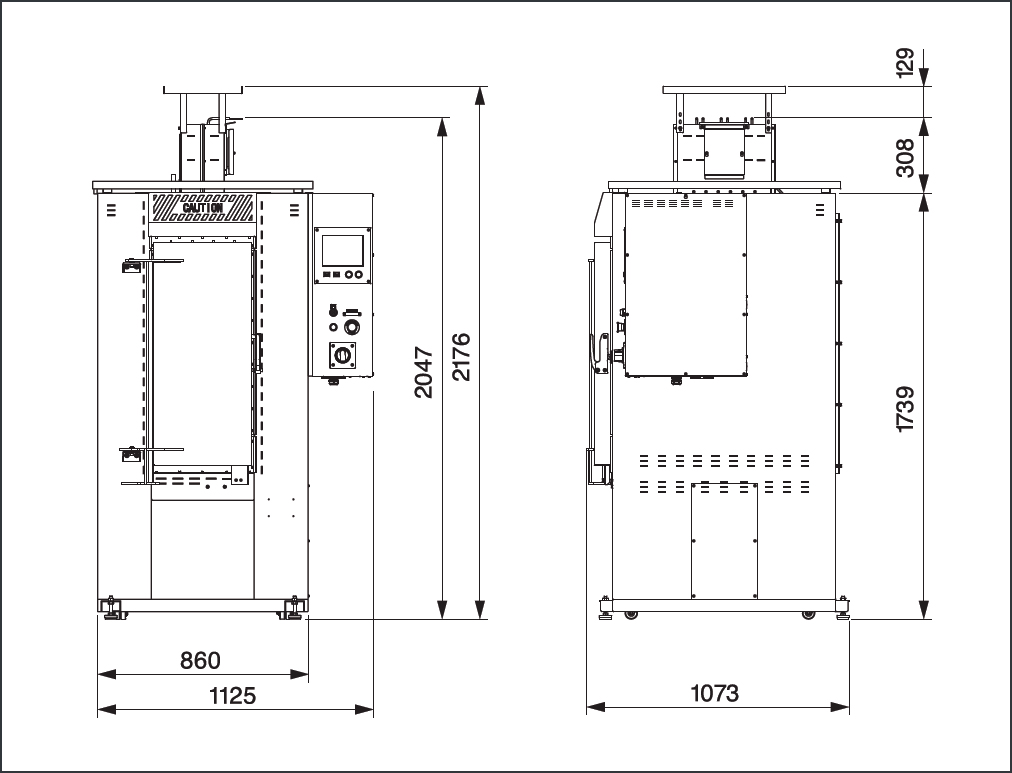 RECOVERING AFTER POWER FAILURE
In case of power failure during automatic burnout steps, the interrupted burnout STEP is memorized. After power is recovered, the burnout cycle automatically resumes from the step interrupted by the previous power failure.
| | |
| --- | --- |
| Model | RBF37 |
| Power | 380V, 50/60Hz, 3 Phases |
| Power Consumption | 17.2KVA (including afterburner) |
| Net Weight | Approx. 460kg (1014lb) |
| Dimensions (WxDxH) | 1125mm (incl. control box) x 1073mm x 2176mm (incl. afterburner) |
| Burnout Temperature | Max. 850°C |
| Turntable | Dia. 552mm x 2 Tables |
| Capacity | 37 Flasks (Dia. 100mm), 45 Flasks (Dia. 89mm) |
| Max. Height Of Flask | 230mm (H) |