Additive Manufacturing in Jewelry
What is it:
Additive Manufacturing by ASTM (American Society for Testing and Materials): "Process of joining materials to make objects from 3D model data, usually layer upon layer, as opposed to subtractive manufacturing methodologies, such as traditional machining"
Naming:
Rapid Prototyping: This term was used in the beginning of the professional use of the technology because the main application was the manufacturing of prototypes, mock ups and sample parts.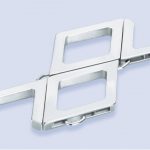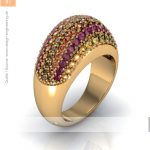 Advantages:
Design complexity and freedom: The advent of 3D printing has seen a proliferation of products (designed in digital environments), which involve levels of complexity that simply could not be produced physically in any other way. While this advantage has been taken up by designers and artists to impressive visual effect, it has also made a significant impact on industrial applications, whereby applications are being developed to materialize complex components that are proving to be both lighter and stronger than their predecessors.
Speed: You can create complex parts within hours , with limited human resources. Only machine operator is needed for loading the data and the powder material, start the process and finally for the finishing. During the manufacturing process no operator is needed.
Customization: 3D printing processes allow for mass customization — the ability to personalize products
according to individual needs and requirements. Even within the same build chamber, the nature of 3D printing means that numerous products can be manufactured at the same time according to the end-users requirements at no additional process cost.
Sustainable / Environmentally Friendly: 3D printing is also emerging as an energy-efficient technology that can provide environmental efficiencies in terms of both the manufacturing process itself, utilizing up to 90% of standard materials, and, therefore, creating less waste, but also throughout an additively manufactured product's operating life, by way of lighter and stronger design that imposes a reduced carbon footprint compared with traditionally manufactured products.
No storage cost: Since 3D printers can "print" products as and when needed, and does not cost
more than mass manufacturing, no expense on storage of goods is required.
Increased employment opportunities: Widespread use of 3D printing technology will increase the demand for designers and technicians to operate 3D printers and create blueprints for products.
Jewelry Industry
was one of the first to realize the potential of 3D printing. With the help of Computer Aided Designing (CAD),
manufacturers are able to 3D print master patterns for jewelry, which are then cast in precious metal to create intricate art pieces. 3D printing has given designers the liberty to experiment with complex designs and abstract patterns to create dazzling jewelry.
The major benefits of the technology includes easy customization for on-request, unique designs, handling of more complex and intricate designs efficiently and minimizing or eliminating countless mold storage.